On Saturday, May 11th is the starting point for the 64th. "Flower Time" exhibition, the floral event that adorns the city of Girona, decorating the historic and historical heritage of the Old Quarter, which is extended until May 19.
EXHIBITION "FARAÓ, KING OF EGYPT"
The Ramon Noguera Foundation has actively participated, and for many years, in the exhibition "la Caixa" at the CaixaFòrum in Girona (Fontana d'Or). This year, also from the occupational centers, we have produced handmade decorations inspired by the exhibition "Fararó, King of Egypt", a sample formed by a collection of objects from the British Museum, exploring the ideals, symbolism and ideology of Pharaohs, as well as the reality of life in the Nile Valley. To make the scenery, the main colors of this exhibition installed in the CaixaFòrum have been used: blue turquoise, golden, navy blue, green and red granate, with plant elements that are so characteristic of Egypt as palm and papyrus.
With these elements of Egyptian inspiration we have also decorated the offices of Caixabank in the streets of Santa Clara, Cruz and Plaza Independencia. All clients of this bank that come to the offices during the days of Temps de Flors will receive a bag of raffia with an illustration of the city of Girona made by users of the occupational centers of the Ramon Noguera Foundation.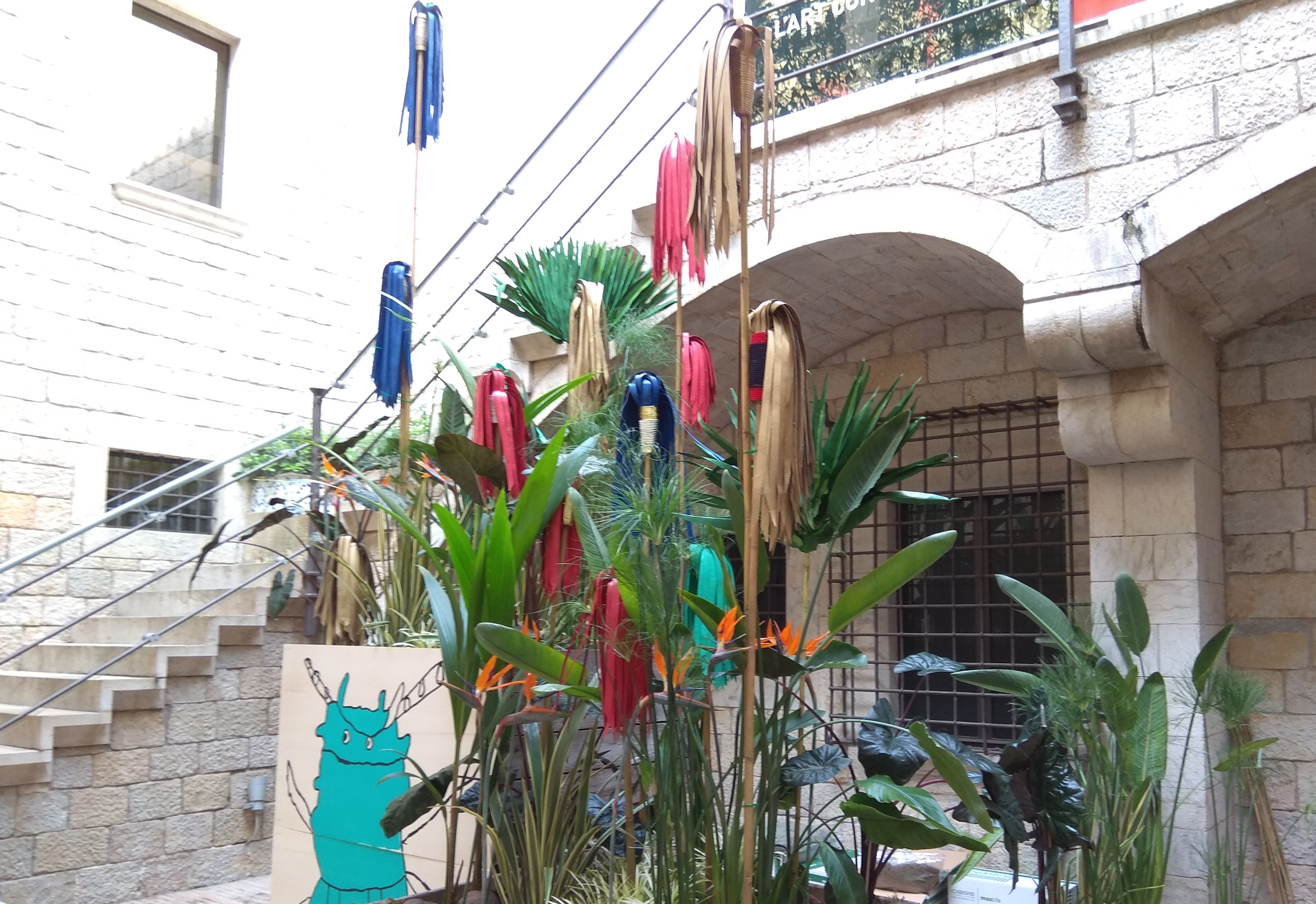 EXHIBITION "POLLEN"
This year, we actively participate, and for the second time, in the decoration of the gardens of La Devesa, one of the points that was included last year for the time of Temps de Flors, and where we have located our restaurant La Rosaleda Garden Tasting .
The exhibition, under the title "Pollen", has been designed by the artists and trademarks of TRAMATS , Josep Mercader and Magda Martínez, and has also had the collaboration of the Neighborhood Association Devesa-Güell . From Jardins de la Devesa, "Pollen" wants to thank bees for the work they do when pollinating our flowers so that nature evolves at its own pace. It represents the exciting world of bees with their life cycle, and with the relationship of man with these insects throughout history and the products we get from their work.
The installation consists of 30 bees made of bees made in a crafted way with vegetable fabrics and clay coated, as they were done in the past, placed in the central part of the gardens in an ordered linear way, 6 elements made of vegetable fibers which symbolize swarms of bees outside the beehive, 1 structure of hexagonal tissues with brown sheets, which symbolize bee cells within the beehive, made from cotton yarns of yellowish, orange and brown tones that symbolize the pollen and funny bees on pollen, these two last elements made in the occupational center of the Ramon Noguera Foundation.